Pest Control Exterminators – New York Featured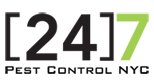 Address:
431 E 102nd New York, NY 10029
10029
Short Business Description:
At 24 Hour Pest Control NYC, we find bugs just as much of a nuisance as you do, maybe even more so since we deal with it on a regular basis. Moreover, we understand just how severe an infestation can get, especially considering some of these pests do structural damage to your home or can carry disease that can infect your family.
Long Business Description:
Our NYC exterminators can also help you with your pest control needs in Brooklyn, Queens and all 5 boroughs. 24 Hour Pest Control is a professional licensed pest control company in NYC that has been serving the New York City area for over 15 years.